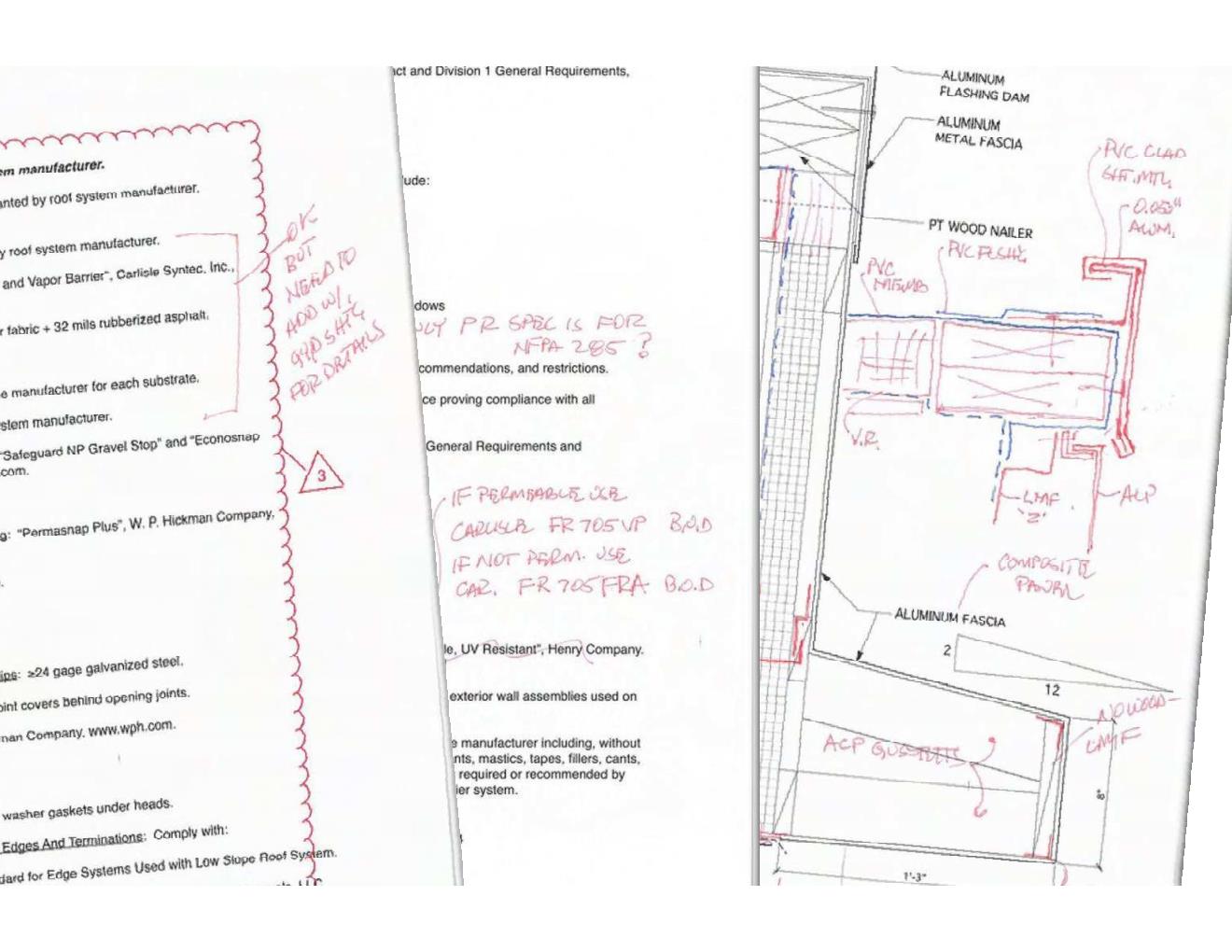 Building Enclosure Design Services
Building Envelope Technologies (BET) was formed in 2000 as a result of the desire to provide quality architectural engineering services focused on the building envelope. We routinely assist owners, architects, and contractors in the design of building enclosure systems, both for new construction projects, and for existing structures.  Approximately half of our projects include existing structures and the remainder new construction efforts. We specialize in all aspects of the exterior building enclosure including, but not limited to, roofing systems, fenestration components, façade systems, air barriers, green roofs, waterproofing, and such other building elements as may be associated with the provision of a complete exterior building enclosure system.
Our services during the design phase typically include the following:
SCHEMATIC DESIGN PHASE:
Assist the design team in the identification and refinement of building component selections and the organization of building exterior systems.
Provide preliminary materials/systems research.
Identify conditions for which alternative or special detailing might be appropriate. Additionally, general systems concepts will be reviewed.
Attend periodic meetings with the project team and provide memorandum as appropriate
Provide scope letters and/or memorandum as appropriate for various construction trades.
Assist in the integration of the proposed construction with other related construction.
Identify aspects of the construction unique to the project and requiring appropriate identification in the construction documents.
DESIGN DEVELOPMENT:
Receive current schematic design development construction documents including elevations, floor plans, and any other available information for building envelope components including, but not limited to, roofing, wall constructions, fenestration, and waterproofing concerns.
Review of all applicable building codes and construction standards as may be associated with the building enclosure, including all aspects of air, water, structural, and heat related issues.
Prepare a memorandum identifying all basic exterior enclosure construction assemblies for the new construction. The memorandum will identify the code design parameters, as well as construction component materials and highlight any special considerations therefore.
Provide opinions as to the constructability of the proposed systems and compatibility with associated and adjacent materials.
Provide recommendations to improve integrated performance and cost savings where possible.
Provide technical assistance for the architect and the specifications writer in establishing initial construction and system components.
Assist the architect by providing redline markups of specifications and existing drawings as appropriate and in keeping with the level of detail development.
Meet with the project team as required.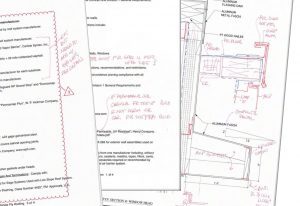 Sample redline markups by BET.
CONSTRUCTION DOCUMENTS:
Receive from the architect the final design development documents, including plans, details, specifications, and engineering design parameters for all related building envelope components including, but not limited to, roofs, walls, structural systems, fenestration, waterproofing, and sealants.
Provide a phased review of the construction documents, including specifications and detail drawings, so as to identify conditions for which alternative or special detailing might be appropriate or expense issues are not clearly noted.  Additionally, general systems concepts will be refined.
Review all related technical specifications and provide redline comment and edit as appropriate.
Provide design detailing consultation sketches to the architect as required.
Review the appropriate performance criteria for various building envelope constructions associated with air and water pressures. Provide consulting advice as necessary for testing and performance and quality control assurance.
Provide opinions as to the constructability of proposed systems capability with adjacent materials. Provide recommendations to improve integration and cost savings where possible.
Meet with the project team, as well as any proposed systems vendors, in order to review all preliminary drawing and technical information available for proposed systems.
Provide memorandum and similar correspondence as required during the design process for the refinement of systems and preliminary pricing options, if required.
Review all available testing data and establish such other testing protocol as may be appropriate for the evaluation and integration of the building envelope construction.
Advise on appropriate mockup construction for possible testing evaluation.
BIDDING/BUYOUTS:
During the preparation of construction documents and subsequent issuance for tender, the process of bidding often includes unique contractor proposals, qualifications, and value engineering review. In order to maintain 'Lean' project scheduling and efficiencies, it is often necessary to provide services for early release construction packages to specialty vendors or subcontractor trades.  These buyouts are frequently driven and refined by the contractors as the program advances.  BET often assists in the buyout program, including the preparation of scope statements, the review of designated construction documents, and review and opinion of contractor proposals.
Assist the architect in the review of contractor proposals.
Assist and review bid tabulations provided by the construction manager for recommendations of contract of awards, including evaluation of proposed alternatives, value engineering, and similar items.
Attend/participate in contractor interviews.
Review value engineering proposals.
Please call us today if you have any questions.  We would happy to discuss your project with you!