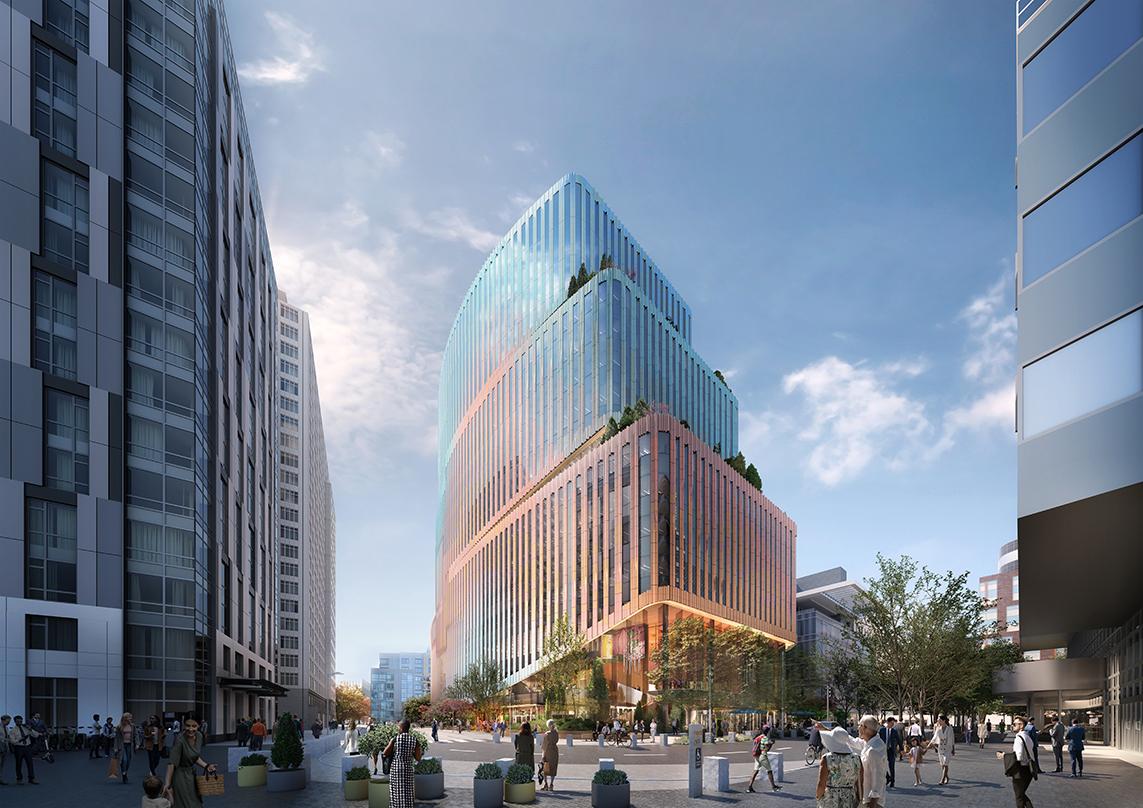 The Kendall Project – 2023 CREW Boston Networking Award
585 third street
In June 2022, BioMed Realty secured a lease with Takeda, a leading pharmaceutical firm, for their 600,000 square-foot lab/office space at the 585 Kendall project in Cambridge, MA. BET has been enlisted to execute a comprehensive building enclosure commissioning program for this project. This mandates a continuous, hands-on role from BET, the building enclosure commissioning agent (BECx), spanning from the design phase through project completion and beyond. Aiming for LEED Platinum certification, the design focuses on minimizing operational and embodied carbon, conserving water, extending the lifespan of building systems, and enhancing its broader environmental and community influence.
585 Kendall, designed by CBT Architects, is to be a cutting-edge structure that melds science and art at Kendall Square's core. The first three floors offer a theater (380 seats), winter garden, retail, and lounges. The higher floors allocate 500,000 sf for labs.
The design seamlessly integrates nature and architecture to attract diverse visitors. The foundation features a versatile, acre-sized indoor/outdoor park beneath an elevated structure. Landscaped areas harness trees for climate moderation, serving as hubs for gatherings and arts events. A unique winter garden occupies the building's eastern section, catering to year-round activities. Curved exteriors enhance sunlight access, mitigate wind, and diversify visuals, while the strategic design optimizes energy and enlarges communal space.
A 30,000 sf arts hub spans the second and third floors, outfitted with state-of-the-art stage amenities for diverse performances. Intended for local communities, businesses, and artists, it pledges to bring over 100 live events annually, infusing the area with dynamic cultural activities.
Drawing from theater curtain pleats and regional colors, 585 Kendall boasts a dynamic, colorful facade reflecting its diverse offerings. Its top layers use a high-performance curtain wall with custom colors and detailed panels for a lively look. The glass-rich ground level enhances visibility, promoting pedestrian flow and connecting previously secluded surrounding open spaces.
The 585 Kendall Project was awarded the 2023 CREW Boston Networking Award. The Networking Award recognizes a project that most clearly exemplifies the goals and purposes of CREW Boston and showcases a business-to-business networking success. CREW Boston promotes the advancement and parity of women in commercial real estate. This project involved over 70 women in different disciplines across the many project teams, including BET's very own Andrea Sonan. This extensive collaborative effort could not have come together without the excellent work of all these women involved.
We at BET are proud to be a part of this historic achievement!